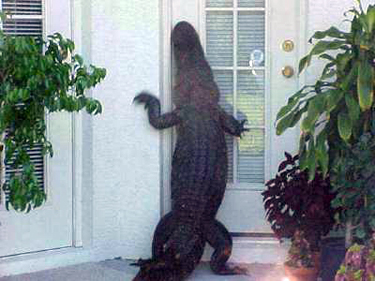 A lake close to Cape Canaveral is home to Florida's mascot — the 'Gator.
Last week zoologists have been looking to see if space shuttle launches affect the environment of local animals. So when NASA launched a shuttle this past weekend, researchers were ready to sample the water and collect some gator eggs.
Prior to the launch, the lake's water had a clearly alkaline pH of 7.8, comparable to river water.
3 hours after launch, the local lake water had plummeted to a startling pH of 0.5 — more than a million times more acidic than pre-launch!!!
The region is dominated by limestone-weathered soils, so 24 hours later the lake's water was again a comfortable 7.8. So.. are there any 'gators left,?
If you liked this.. try....
QR Code - Take this post Mobile!
Use this unique QR (Quick Response) code with your smart device. The code will save the url of this webpage to the device for mobile sharing and storage.
Related posts: